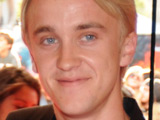 Rex Features
Tom Felton has revealed that he was once sent silver spoons as a present from a Harry Potter fanatic.
The 21-year-old, who plays Draco Malfoy in the movies, said he regularly receives unusual gifts in the post from people who love the wizard films.
"I have some amazing pieces," he told DS. "I get artwork, which is great. I get shoes, sweets.
"Someone sent me a cake for my birthday. I've had spoons – a silver spoon is supposed to symbolise good luck I think, so I'm very grateful for my spoon collection.
"There are some very strange and bizarre products."
Commenting on the followers of J.K. Rowling's series, he added: "There are some heavily convinced American teenagers that take it way too seriously, but saying that, it's a joy and amazing to see the fans every year.
"It's one of the franchises of our generation and it's an honour to be part of it."
Thanks to www.digitalspy.co.uk for the story!