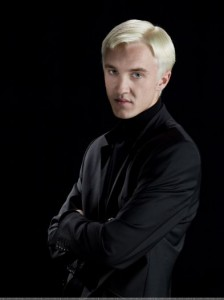 As we reported previously, Feltbeats.com is holding a charity fundraiser for "Zimbabwe's Forgotten Children", in celebration of Tom Felton's 10 years playing Bad Boy Slytherin Draco Malfoy. On March 5th, we will be drawing names to win a special Feltbeats.com prize pack. Here's more info from the filmakers about this worthwhile cause:
Since making the film Zimbabwe's Forgotten Children – we have been able to help the children featured. But they are among many thousands of children in desperate need of an EDUCATION. For £2.50 per month or £30.00 per year you can pay for a child's school fees for an entire year in Zimbabwe.
Tom has put out the plea for fans of his to help take these children out of the work force and into the classroom. This is where you come in.
Each month, we will be collecting donations at http://www.justgiving.com/dracosgift . Just Giving is a non-profit agency that collects donations and submits them directly to the charity every 25 days. On the 5th of each month, Feltbeats.com will draw names from the doners the previous month to win special Feltbeats.com related goodies, culminating with the final draw on Draco Malfoy's 31st Birthday! In July, Feltbeats.com members will be in London  presenting a celebratory check to the Zimbabwechildren.orgs offices listing the total raised for this life changing charity. No donation is too big or too small. Help us change the lives of these wonderful children by providing an education! Thank you!