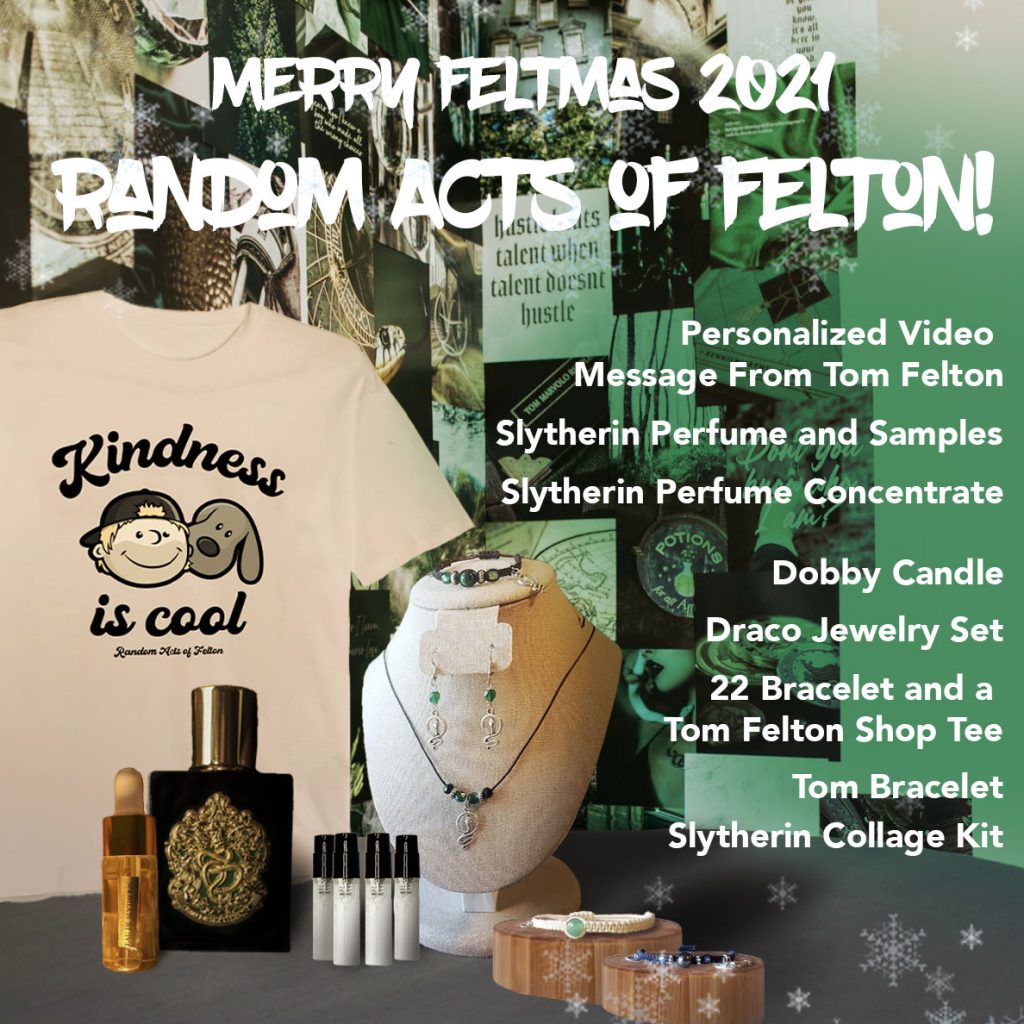 May we present Random Acts of Felton 2021! In honor of Tom Felton's strive to spread kindness and positivity not only throughout the fandom but the world, we are challenging everybody to commit acts of kindness to spread a little cheer throughout this holiday season!
You can volunteer, help a neighbor or friend, donate to a worthwhile cause. Whatever you think will bring a smile to someone's face during this unprecedented time in history.
Although kindness should be an endeavor everybody strives for in their everyday lives, we have some really cool prizes that we will bestow upon some randomly selected individuals who take part in this promotion!
First and foremost we will be selecting 3 grand prize winners who will each receive a personalized video from Tom, as well as an exclusive "Kindness is Cool" Tshirt designed specifically for this giveaway!
We will be selecting 9 other winners who will receive prize packs from some amazing companies such as:
PopSoap Wizards Sample Pack and Harry Potter Candle
Maison Magique Slytherin Parfum, Mystery Parfum, House samples, and Candle
Equal Creations Will have 3 winners selected: 1 Draco Jewelry Set, 1 Tom Bracelet for Mental Health Awareness, and 1 "22" Bracelet
Archive Sunday Ambition Mini Collage Kit
Wynotts Wands Custom Wand
Kimberly Cerf Design Co 2 Winners will each receive a shirt of their choice from the shop
Each pack will also include the "Kindness is Cool" Tshirt as well!
How do you win you may ask? Just complete an act of kindness and post it to instagram with the hashtag #merryfeltmas21. We know that during this unpredictable time of Covid it may not be easy to get out and help somebody personally, and it should not cost money to be kind, therefor we have also partnered with Bookstr to allow you to snag some bonus entries! If you upload your act of kindness there as well you can secure 5 bonus entries! You can also grab entries by following our sponsors accounts as well as visiting their pages! Click here for more details!
Contest runs through New Years Day and is not associated with Instagram in any way.